Posts for: November, 2012
By Newmarket Dentistry
November 19, 2012
You may have seen Kathy Ireland on the cover of Sports Illustrated, but did you know that she is now a business mogul?
Through it all, Ireland has kept her model good looks, and that includes a bright, glowing smile. In a recent interview with Dear Doctor magazine she said that keeping her smile has required ongoing maintenance and more.
It seems that Ireland is a bit of a daredevil. She described a moment of fun with her children when she tried to stand in their wagon and "wagon surf" across her driveway. It ended badly when she crashed into her parked car and suffered a broken nose, split forehead and several broken teeth. "I learned that my love of adventure exceeds my coordination," she commented.
Ireland was born in Glendale, California in 1963. She demonstrated her drive to succeed early in life, starting at age 4 when she and her sister sold painted rocks from their wagon. Later she had a paper route. She began modeling at 17, with the goal of earning enough to pay for college or to start a business. In her successful modeling career she graced the covers of Glamour, Cosmopolitan, Harper's Bazaar and Sports Illustrated. Her first cover for Sports Illustrated, the publication's 25th Anniversary Swimsuit Edition, was the magazine's best-selling swimsuit issue to date.
In 1993 she founded her marketing and design firm, kathy ireland Worldwide. Now a billion-dollar industry, the firm sells fashions such as wedding gowns and bridesmaid dresses, as well as a wide range of items for home and family.
She has also written a number of books teaching others how to be successful — based on her own experience — as well as three children's books.
Discussing her oral health, Ireland says that she required serious professional assistance on more than one occasion. When she was a child she knocked out a tooth and later knocked it loose again. As an adolescent she wore braces for about three years. After the driveway incident she needed numerous veneers and dental implants to replace a lost tooth and restore her smile.
Her maintenance routine includes regular flossing and brushing, and she has her teeth cleaned every six months. She keeps up on her reading about the latest in research on dental health, and encourages her three children to floss and brush their teeth, to limit eating sweets and to do what they can to avoid injuries to their mouths and teeth.
Contact us today to schedule an appointment to discuss your questions about how to maintain your own smile. You can also learn more by reading the Dear Doctor magazine article "Kathy Ireland."
By Newmarket Dentistry
November 01, 2012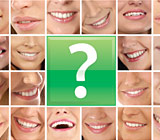 Teeth whitening is a great way to improve your smile. For best results and to ensure your safety, teeth should be bleached under professional supervision. We can help you choose the whitening method that's right for you, and monitor the effects of your treatment. Here are some answers to frequently asked questions about this relatively inexpensive cosmetic procedure:
Is teeth whitening safe?
A lot of research has been done on teeth whitening, so we know that specific bleaching formulas, from a reputable source, are safe if used as directed and after a proper dental examination. You should be aware that tooth sensitivity is a common side effect of bleaching, but brushing with a desensitizing toothpaste containing potassium nitrate for two weeks prior to bleaching can reduce sensitivity. Using potassium nitrate during the bleaching process can also help.
Is it effective?
Professional bleaching is very effective. Peroxide goes through tooth enamel (the outermost layer) and the dentin (middle layer) to the pulp (the innermost layer) in 5 to 15 minutes. The bleach actually changes the color of the enamel and dentin, and removes stains.
How is teeth whitening done?
Basically there are three options: in-office whitening (done by a dentist), at-home bleaching with custom-made flexible plastic trays (with prescription bleach), and over-the-counter (OTC) products. Not all OTC products are equal, and the results will take longer to achieve than with professionally supervised procedures.
How long does it take?
That depends on what method you choose and, in the case of at-home whitening, how conscientious you are about following through with your course of treatment. One study found that a six-shade change required either: three in-office applications of 38% hydrogen peroxide; one week of 10% carbamide peroxide used at home nightly in a custom-made tray; or 16 daily application of 5.3% hydrogen peroxide on a whitening strip.
Will it last?
It really depends on the individual. No bleaching method can whiten teeth permanently, though some people's teeth remain white for over 10 years with no touch-up treatment. More typical results vary from six months to two years. Keeping up with your regular oral hygiene routine at home and your professional cleanings at the dentist's office will help maintain the results; so will avoiding tobacco and beverages that stain, such as red wine, tea and coffee. You can also consider a bleaching touch-up once or twice a year at home or here at the dental office.
I want to go for it! What's the first step?
Step one is a pre-bleaching dental examination to determine the cause of your tooth discoloration. We want to make sure that your discoloration is not the result of an oral health-related problem. For example bleaching will mask but not resolve issues such as abscessed teeth, decay, and root canal problems. We want your teeth not only to be beautiful, but healthy, too!
If you are interested in learning more about teeth whitening, please contact us today to schedule an appointment for a consultation. For more information on teeth whitening, please see the Dear Doctor magazine articles "Important Teeth Whitening Questions Answered" and "Tooth Whitening Safety Tips."