Posts for: January, 2013
By Newmarket Dentistry
January 15, 2013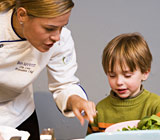 When Cat Cora is not doing battle as the first female chef on the Food Network's hit series Iron Chef America, she is busy caring for the needs of her four active young sons. This includes monitoring the food they eat and their oral hygiene habits.
The busy chef, restaurateur, author, philanthropist and television personality recently revealed in an interview with Dear Doctor magazine that it all started when her four sons were little. She got rid of bottles and sippy cups as soon as possible to prevent tooth decay. She also started exposing her boys to a wide variety of spices and foods when they were infants — for example, by putting cinnamon in their baby cereal. Cat limits the amount of sugar in their diet by using fruit puree in baked goods and BBQ sauces, or the natural sugar substitute Stevia. Furthermore, Cat reports, "my kids have never had fast food."
Cat is right on target with her approach to her children's oral health. In fact, we are often asked, when is the right time to schedule a child's first dental appointment? Our answer surprises some people — especially those expecting their first child.
The ideal time to take your child to the dentist is around age 1. Why so young? A baby's first visit to the dentist sets the stage for lifelong oral health. Besides, tooth decay can start very early. Baby Bottle Tooth Decay (BBTD), as the name suggests, impacts children who often go to sleep sipping a bottle filled with a liquid containing natural or added sugars, such as formula, fruit juice or a fruity drink mix. Another condition, Early Childhood Caries (ECC), is often found in children who continuously use sippy cups (again, filled with sugary liquids), children who breast feed at will throughout the night, children who use a sweetened pacifier, and children who regularly take sugar-based oral medicine to treat chronic illness.
To learn more about this topic, continue reading the Dear Doctor magazine article "Age One Dental Visit." Or you can contact us today to schedule an appointment. And to read the entire interview with Cat Cora, please see the article "Cat Cora."
By Newmarket Dentistry
January 05, 2013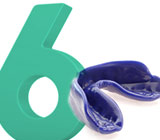 When involved in high impact sports or vigorous activities, it is important to protect your mouth and teeth. This statement is backed by the fact that there are over 600,000 sports-related dental injuries treated in emergency rooms across the US each year according to the US Centers for Disease Control (CDC).
In addition to absorbing and distributing the forces that impact the mouth, teeth, face and jaws an athlete receives while participating in sports such as baseball, football, basketball, hockey (ice and field), skateboarding and wrestling, the American Dental Association (ADA), also recommends the use of custom mouthguards for other activities such as acrobatics, bicycling, handball, racquetball, skiing, and even weightlifting.
These facts make two things clear: (1) it is vital that you obtain a professionally made mouthguard that you wear during these types of activities and (2) that you also understand how this mouthguard protects you. Below are just a few ways.
Lacerations. A custom-fit, professionally made mouthguard covers the sharp surfaces of the teeth to protect the soft tissues of the cheeks, lips, gums and tongue from lacerations that can occur from a blow or sudden jolt.
Mouth Impact. Just as a mouthguard protects against soft tissue lacerations, it can also help prevent injuries to the jaws and teeth. This includes but is not limited to chipped teeth, fractured teeth, broken teeth and teeth that are partially or fully knocked out of their natural position.
TMJ (jaw joint) Trauma. Wearing a properly fitted mouthguard can reduce the potential for jaw displacement and joint fractures by cushioning the jaws against damage from an impact.
Direct Jaw Impact. Anytime a person receives a direct impact to his/her jaw, having a mouthguard in place may help prevent more serious injuries to teeth and jaws. This is especially important for anyone diagnosed with TMJ.
Jaw Fracture. A custom-fit, professionally made mouthguard both absorbs and distributes impact forces so that jaws are protected. And it is this reduction in force that can help prevent the jaws from fractures.
Under Chin Impact. Receiving a blow under the chin can obviously damage teeth; however, it can also cause damage to the jaws as well as inflame or cause TMJ issues.
You can learn more about mouthguards by continuing to read the Dear Doctor magazine article "Athletic Mouthguards." Or you can contact us today to schedule an appointment.