Posts for: June, 2013
By Newmarket Dentistry
June 27, 2013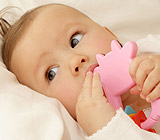 Throughout your child's lifetime, you will experience many important milestones together, some more pleasant than others. Teething is one of those notable milestones, and unfortunately, this "rite of passage" may cause your baby to feel uncomfortable at times.
Teething describes the tooth eruption process by which baby teeth emerge through the gums and into the mouth. It usually begins when your baby is between six and nine months, but may start as early as three months or as late as twelve months. Most children will have all 20 baby teeth by agree three, with the lower front teeth erupting first, followed by the two upper front teeth and then the molars.
Every baby will experience teething differently, but the following symptoms are very common:
Irritability
Biting and gnawing
Gum swelling
Chin rash
Disrupted sleeping patterns
Ear rubbing
Drooling
Decreased appetite
Many babies make it through the teething phase without much discomfort, but sometimes the pain can be substantial. If your baby is lucky enough to experience no discomfort, he or she will likely demonstrate some of the classic symptoms of teething, such as swollen gums and drooling. You may also notice that he or she will bite or chew anything and will wake up frequently during the night. These symptoms occur most often the week the teeth actually break through the gums, beginning four days before the eruption and lasting about three days after.
Here are a few suggestions to help reduce your baby's discomfort during teething:
Teething rings: The American Academy of Pediatric Dentistry (AAPD) recommends that parents use a clean, chilled, rubber teething ring or cold wet washcloth.
Chilled pacifiers: Be careful not to freeze teething rings or pacifiers, as ice can burn if left in place too long.
Gum massage: Massaging inflamed gums with your clean finger may be helpful to reduce the pressure.
Over-the-counter medicine: If pain continues, you can give your baby acetaminophen or ibuprofen, but check with a pediatrician or pharmacist for the correct dosage. The medicine should be swallowed and not massaged into the sore areas, as this, too, can burn.
Other unpleasant side-effects of teething include diarrhea, rashes and fever. Though many have reported these symptoms to be normal, if your infant has fever or diarrhea during teething or continues to experience pain, you should schedule an appointment with our office. We'll examine your baby to ensure that the discomfort is related to teething and not something more serious.
If you would like more information about teething, please contact us for a consultation. You can also learn more by reading the Dear Doctor magazine article "Teething Troubles."
By Newmarket Dentistry
June 14, 2013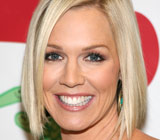 Plenty of parents use little tricks to persuade young ones to eat their vegetables, wash their hands, or get to bed on time. But when actress Jennie Garth wanted to help her kids develop healthy dental habits, she took it a step further, as she explained in a recent interview on Fox News.
"Oh my gosh, there's a froggy in your teeth!" the star of the '90s hit series Beverly Hills 90210 would tell her kids. "I've got to get him out!"
When her children — daughters Luca, Lola, and Fiona — spit out the toothpaste, Garth would surreptitiously slip a small toy frog into the sink and pretend it had come from one of their mouths. This amused the kids so much that they became engaged in the game, and let her brush their teeth for as long as necessary.
Garth's certainly got the right idea. Teaching children to develop good oral hygiene habits as early as possible helps set them up for a lifetime of superior dental health. Parents should establish a brushing routine with their kids starting around age 2, when the mouth is becoming filled with teeth. A soft, child's size toothbrush with a pea-sized dab of fluoride toothpaste and plenty of parental help is good for toddlers. By around age 6, when they've developed more manual dexterity, the kids can start taking over the job themselves.
Here's another tip: It's easy to find out how good a cleaning job your kids are doing on their own teeth. Over-the counter products are available that use a system of color coding to identify the presence of bacterial plaque. With these, you can periodically check whether children are brushing effectively. Another way of checking is less precise, but it works anywhere: Just teach them to run their tongue over their teeth. If the teeth fell nice and smooth, they're probably clean, too. If not... it's time to pull out the frog.
And don't forget about the importance of regular dental checkups — both for your kids and yourself. "Like anything, I think our kids mirror what we do," says Garth. We couldn't agree more.
If you need more information about helping kids develop good oral hygiene — or if it's time for a checkup — don't hesitate to contact us and schedule an appointment. You can learn more in the Dear Doctor magazine article "How to Help Your Child Develop the Best Habits for Oral Health."