Posts for: October, 2014
By Newmarket Dentistry
October 27, 2014
Periodontal (gum) disease is an infectious condition that if left untreated could lead to tooth loss. While gum disease is primarily caused by a thin layer of bacterial plaque and calculus left on the teeth due to poor hygiene, you may also have extenuating factors that may make you more susceptible to the disease.
Gum disease is actually a group of infectious diseases in which some forms are more difficult to control than others. All these forms arise from interactions between the bacteria in the dental plaque and your body's immune system. Depending on both your body's individual response and the disease form, your resistance to the resulting bacterial infection may be low.
That low resistance to certain strains of bacteria may be genetic — something you've inherited from your parents. Your stress level, particularly when it's high, can also diminish your body's ability to resist disease. There are also numerous strains of bacteria that could lead to gum disease — your body may not be able to effectively resist the particular "mix" of strains contained in your dental plaque.
Aside from lifestyle issues like stress or oral hygiene, we can at least test and verify any susceptibility you may have due to uncontrollable factors like genetics or the particular bacterial makeup within your plaque. Unfortunately, a minority of people will continue to deal with gum disease even after treatment and adopting a more effective hygiene regimen. Although we can't cure the disease, we can certainly control it with regular monitoring and treatment when necessary.
The key is to adopt a long-term strategy that will seek to preserve the teeth for as long as possible. In some cases, the best treatment approach is to prolong the life of the affected teeth for as long as possible to give you time to prepare emotionally and financially for eventual tooth replacement.
Indeed, any patient experiencing some form of gum disease should seek professional treatment, followed by a daily oral hygiene program and regular checkups and office cleanings. Taking the right steps in consultation with your dentist will assure you'll preserve your teeth for as long as possible.
If you would like more information on treatment for periodontal disease, please contact us or schedule an appointment for a consultation. You can also learn more about this topic by reading the Dear Doctor magazine article "Periodontal (Gum) Treatment and Expectations."
By Newmarket Dentistry
October 09, 2014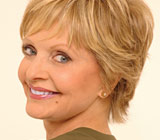 Florence Henderson is a multi-talented actress most recognized for her role as Carol Brady on The Brady Brunch, one of the longest-running situational comedies. In fact, this role earned her the title of America's Favorite TV Mom and her first TV Land Pop Culture Icon award, which is on permanent display in the National Museum of American History.
During an interview with Dear Doctor magazine, Henderson discussed her oral health as well as her role as spokesperson for Polident (denture cleanser) — even though she does not have dentures. Henderson attributes her beautiful, natural smile to prevention. "Flossing, brushing and regular dental checkups are vital if you want to keep your teeth," she said, adding, "I always have mouthwash, dental floss, toothpaste and a toothbrush on the set."
Similar to the great advice "Carol Brady" shared on television, Henderson's advice on oral hygiene is spot-on. We agree that an effective educational approach to oral hygiene and diet is essential to keeping teeth for a lifetime.
The first step is to ensure you have a proper brushing and flossing technique. We can go over these during your next office visit. Our goal is to ensure that you are applying the ideal amount of pressure and motion because gum tissues are soft and can easily be damaged. And you should never use a hard-bristled toothbrush or saw at your gums and teeth when brushing. The best technique is a modified, gentle scrub where you hold a well-designed, multi-tufted toothbrush at a 45-degree angle to the gum line to gently wiggle/scrub your teeth clean.
As for flossing, you should do it at least once daily to remove the plaque buildup that occurs in the protected areas between teeth where your toothbrush can't reach and where periodontal (gum) disease and dental caries (cavities) start and progress. Many people are shocked to learn that over 50% of the accumulation of plaque occurs in these areas.
To learn more about proper oral hygiene, you can continue reading the Dear Doctor magazine article "Oral Hygiene Behavior." Or you can contact us today to schedule an appointment so that we can conduct a thorough examination and discuss what treatment options will be best for you. And to read the entire interview with Florence Henderson, please see the article "Florence Henderson."